Official Document Translation
Translating official documents such as IDs, passports, criminal records, diplomas, birth certificates that you may need in the country or abroad Adıgün Translation Office provides reliable and fast service by determining your needs in the most accurate way.
Official document translation in all languages
Official document translation and notary approval on the same day
Free and on time delivery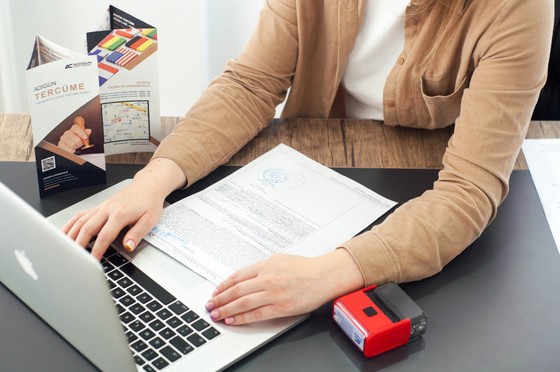 Online Translation Service

Order the translation of your official documents online from your home or workplace and we will deliver your documents to your address as soon as possible
Sworn Document Translation
Adıgün notary sworn translation office provides official document translation service to any language you wish, in accordance with the demands of official authorities, in a correct and complete manner
Official Documentation Tracking

In addition to official document translation, we also provide support for notary and apostille approvals and follow-up of Ministry of Foreign Affairs and Consulate approvals
Online Official Document Translation Service
You can order translation of official document online from your location or by visiting our office
Send us a scanned or good quality photo of your document
Let us deliver the notarized translation to you free of charge by courier
Or pick up your notarized translation from our office
Some of the Documents Required Notarization
Notary Sworn Official Document Translation
Adıgün Translation and Consulting is a translation office that provides services with a staff of officially authorized sworn translators in Turkey. Thanks to its location, it provides advantages to its customers and provides fast and high quality transactions thanks to its proximity to the notary public.
Customer satisfaction, information security, perfection in translation and compliance with standards are among the most important issues for our company.
You can get official document translation service in any language from our office, which has internationally valid ISO certificates.
Our Official Document Translation Languages
Adıgün Notary Sworn Translation Office offers its customers 7/24 uninterrupted translation of official documents with its family of sworn translators specialized in all languages. The languages that are frequently requested from our office are:
Russian
Ukrainian
Kazakh
Bulgarian
English
German
French
Arabic
Italian
Spanish
Lithuanian
Romanian
Azerbaijani
Uzbek
Chinese
Turkmen
A perfect translation service from the source language to the target language by preserving the originality of your texts
Free Shipping On The Same Day
We send your translated documents free of charge within Turkey and to anywhere in the world
We deliver your translation orders at the most convenient time for you
Confidentiality of your information is respected in the translation services offered by our translation office
7/24 Online Translation Office
An online translation company that can be accessed 24/7 where you can have information on duration and prices
Adıgün Translation Office offers discounts up to 30% for bulk orders
Frequently Asked Questions

The transfer of official documents from the target language to the desired source language is called official document translation. If the institution to which these documents will be issued also requires notary approval, we can have the documents notarized in addition to the translator's signature.