Power of Attorney Translation
Our office translates power of attorney in all languages. If necessary, we follow the notary approval of your power of attorney translation on your behalf.
Send us a scanned or good quality photo of your power of attorney
Receive the power of attorney translation at our office
Or let us deliver the translation to you by courier
Adıgün Translation Office is always by your side with our meticulous and complete translation service and the most affordable price policy, for your translation of power of attorney needs.
Quality and fast service, notary approval, sworn translator stamp, professional corporate consultancy
Happiness depends on success, success depends on time. We know your time is very valuable. For this reason, our most important point is delivery on time.
After your translations are completed, we have a delivery service to any destination in the world. Enjoy our free shipping with fast and reliable companies within Turkey.
Power of Attorney Translation in All Languages
Online Translation Service
Notarized Power of Attorney Translation
Notarized power of attorney is the notarization of the translated document. A power of attorney is a document with official validity, in which it is revealed that a person or institution authorizes another person or institution to make decisions and act on its behalf in certain determined matters.
In most matters such as vehicle purchase and sale, real estate, accounting, inheritance, transactions can only be made with an official power of attorney.
Sworn power of attorney translation is required when using the document in different countries. In these cases, the power of attorney is translated by sworn translators, and the new power of attorney text created in the target language is submitted for notary approval. You can choose our power of attorney translation office. We provide quality, professional service.
Most Requested Power of Attorney Translation Languages in Our Office
People live in various countries and communicate with each other. Due to the differences in the languages used by different countries, the languages of official documents also change. In order to use the official document called Power of Attorney in a different country or in a place that requires a different language, a power of attorney translation is needed.
Notarized power of attorney translations in English, German, Russian, Arabic and French are frequently requested in our office. It is very easy to get quality service at an affordable price by coming to our office or sending the required text from our online tools.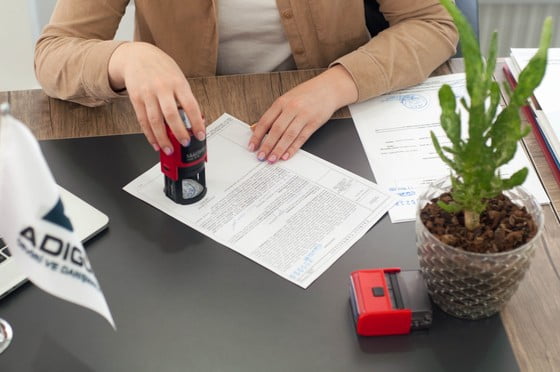 Power of Attorney Translation Office Closest to You
Adıgün translation office is located in Çanakkale, Turkey. However, another benefit of technology is that it eliminates the concepts of distance-proximity between buyer and seller. With our online Power of Attorney translation service, we are as close to you as an internet click, a phone call or an e-mail. In fact, we are very close to your home.
There is no need for long efforts to get service. All the information and directions you are looking for are available on our site. To place an order on the site, it will be sufficient to send a copy of the Power of Attorney to us via e-mail or WhatsApp.
Frequently Asked Questions