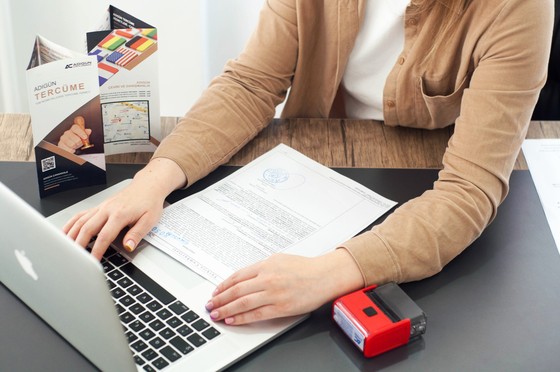 Criminal Record Translation
Our firm makes sworn criminal record translation in English, German, Spanish, Russian, Ukrainian and all languages. In case of need, we follow the criminal record notary approval transactions on your behalf.
Send us the photo of the Criminal Record
Let's deliver it as Notary Sworn within 30 minutes
Or we will send it by courier for free
Adıgün Translation Office is always at your side for your translation of criminal record needs with our rigorous and complete translation service, as well as our most affordable price policy.
Quality and fast service, notary approval, sworn translator stamp, professional corporate consultancy
Happiness depends on success, success depends on time. We know your time is very valuable. For this reason, our most important point is delivery on time.
After your translations are completed, we have a delivery service to any destination in the world. Enjoy our free shipping with fast and reliable companies within Turkey.
Criminal Record Translation in All Languages
Online Translation Service
Notarized Criminal Record Translation
The criminal record is an official indicator of whether people are involved in crime. It is a document requested by many official and unofficial institutions. The criminal record is required at the beginning of the job.
Since the criminal record certificate is a frequently requested and used document, it can be requested when you go abroad or when you want to work with a foreign company. In order for notarized criminal record translation to be carried out correctly and completely, you are required to get support from sworn translation offices.
You can use your document in the institutions and organizations that are needed with the criminal record translation you will request from our Notary Sworn Translation firm. Since the document is an official document, its translation is required to be done by the persons who are professional in their job.
It is necessary to be very careful when translating a sworn criminal record. A translation error in the document will cause you to have problems in your next transactions. For example, a criminal record is required for visa transactions. When you deliver documents to the consulate, your visa cannot be processed or delayed due to a word error.
Sworn translators in our sworn translation office support you in criminal record translation services in order to avoid problems in your translation needs and official affairs. You can get more detailed information by visiting our office or contacting us through our online communication channels.
Best Criminal Record Translation Price
The criminal record certificate is one of the important official documents. As a firm, we aim to provide you with a good service in criminal record translation. In addition to our quality service, we also support you with the best price guarantee in the sector on the subject of the criminal record translation price.
The translation of criminal record price is the articles that do not require high cost due to the fact that the content is not too much. Our company aims to keep customer satisfaction at the highest level by paying appropriate fees in line with your demands.
You can contact our firm on the subject of the criminal record translation prices. We offer you the best price guarantee in the market, we are always at your service to help you with all official document translations.
The Most Demanded Languages in Our Office for Criminal Record Translation
The criminal record translation is one of the most demanded translation services as it is frequently needed, as we can translate all kinds of documents in line with your requests. This document is used in many fields.
With the criminal record translation office, we offer you error-free and affordable priced service.The criminal record translation can be done in any language, especially English. The most preferred language is English, which is accepted as the universal language. Then, French language criminal record translation is also in high demand. The main reason for this is that the immutable words belong to the French language.
Except from English and French, the translations are also made in different languages such as Spanish, Arabic and Italian. By means of our sworn translators in the notarized criminal record translation office, you can ask us to translate your criminal record documents in more than one language.
Certified Criminal Record Translation Office Closest to You
Our Adıgün translation office is located in Çanakkale, Turkey. However, another benefit of technology is that it evaluates the concepts of distance-proximity again between the buyer and the seller by eliminating distances.
We are as close to you as an internet click, a phone call or an e-mail with our online translation order page and criminal record translation service.
There is no need for long efforts to get service, the information and directions you are looking for are available on our site. In order to place an order on the site, it will be sufficient to send a criminal record sample to us via e-mail or WhatsApp.
Adıgün translation services claim to be the closest translation office to you. It provides all kinds of convenience for you to reach our services from your home.
Frequently Asked Questions