Translation of certified documents
To accompany the medical examination
Interpretation in marriage registration
Receiving all documents
Without prepayment
Marriage Translation and Consultation Services
Marriage is difficult due to coronavirus measures for prospective partners who are citizen of different countries in most country. Turkey, where there is no prohibition on the marriage of foreigners, offers an easy and fast marriage opportunity for couples. For this reason, Civil Marriage in Turkey  for Foreigners have become more attractive.
Marriage registration in Turkey for foreigners with Adıgün Consulting
Adıgün Consulting provides assistance in organizing and supporting the full process of civil marriage in Turkey at the Civil Registry Office.
Over the past two years, we have helped more than 400 couples get married in Turkey and get a marriage certificate that is valid in every country.
Experienced specialists with knowledge of international document management and well-established processes of our company allow us to provide a marriage registration service in Turkey for foreigners as quickly as possible - in just one day.
While you are preparing for the trip, the employees of our company will take care of all the issues related to the organization of marriage.
The services we offer you before your arrival
WITHOUT PREPAYMENTS
COORDINATION
Submitting your documents to the marriage office and getting them approved
GET AN APPOINTMENT FROM REGISTRY OFFICE
Choosing(booking) the marriage date
PREPARATION OF DOCUMENTS TO MARRIAGE IN TURKEY
TRANSFER
Providing transfer from/to Istanbul
The price is will be paid upon your arrival at our company's office and originals of documents will only be required at the day of marriage.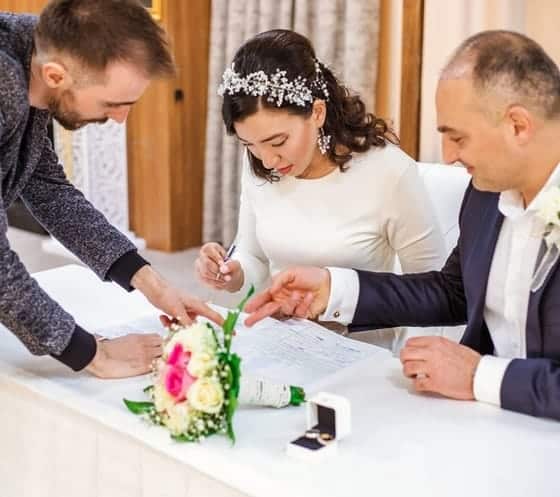 Frequently Asked Questions about Marriage Registration for Foreigners in Turkey
Can foreign nationals get married in Turkey?
According to Turkish law on marriage; a foreign citizen can marry both a Turkish citizen and a foreign national in Turkey at the authorized marriage office. Greek-Turkish, Mexican-kazakh , Russian-Brazilian, French-Russian, White Russian-Egyptian, Canadian-Russian, Pakistani- American, Russian-Turkish couples applied to us for marriage procedures before, and they concluded the process without any problems and returned to their countries happily.
Why should I choose to marry in Turkey?
Marriage is difficult due to coronavirus measures for prospective partners who are citizen of different countries in most country. Turkey, where there is no prohibition on the marriage of foreigners, offers an easy and fast marriage opportunity for couples. For this reason, married in Turkey for foreigners have become alot more enticing.
How can foreigners get married in Turkey?
In order to register a marriage in Turkey, foreigners must collect the requested documents, get a health certificate (medical report), apply to the marriage office, and come with two witnesses on the wedding day. However, the process of marrying foreigners in Turkey can be lengthy due to legal differences, the complexity of functioning in Turkish government authorities and the language barrier, so therefore the best solution is to get professional help.
Is a marriage registration in Turkey valid for other countries?
Marriage registration in an official marriage offices in Turkey are accepted/recognized as valid in all countries. In order for your marriage to be recognized in your own country, you must legalize it by submitting the marriage certificate (document for marriage) to official authorities. This process is essential to marry a foreigner in Turkey.
What Document are needed for Marriage in Turkey 2022?
International Passport
If the passport contains information about the parents, then a birth certficate is not required.
Single Status Certificate
The original document mest be apostilled or stamped with consular legalization in your country.
Birth Certificate
Certificate must contain the names of the parents, affix and apostille to the original or the seal of consular legalization.
Photos
Colored photographs on a white background, 6 pieces, not biometric, 4.5x6 cm in size, taken in the last 6 months.
Additionally
In case of the change in the surname or first name, it is necessary to provide a certificate with an apostille confirming the change of personal information.
What is a medical opinion and why do we need tests for marriage in Turkey?
Turkish citizens and foreigners are required to undergo a medical examination including a blood test for marriage in Turkey. The presence of any kind of disease is not an obstacle to marriage, the examination is done so that the spouses know about the state of health of each other.
What are the legal marriage conditions in Turkey?
Conditions for legal marriage in Turkey is as follows,
Foreigners, asylum seekers and refugees are subject to the law of the country in which they are married and divorced. For this reason, they have to comply with the laws of Turkish Law on issues such as marriage age , marriage license and marriage conditions.
- Men and women over the age of 18 have the right to marry with their own consent.
- Health status, mental consciousness, should not have venereal and contagious diseases.
- consanguineous marriage is prohibited
- A person who appears to be married according to the civil registry cannot remarry.
What processes does Adygun Consulting help with?
Consultation and support at all stages of marriage in Turkey
Coordination of documents with the Registry Office
Choosing (booking) the marriage date
Providing 2 (two) witnesses
Interpreting in English and Russian
Payment of the required fee
Official marriage certificate on the day of the ceremony
Free transfer within the city
Accompaniment while obtaining a medical report
Translation of all necessary documents
Notarization of documents
Getting additional documents for marriage recognition
Notarization copy of marriage certificate with apostille
Professional photographer at marriage registration
Transfer from/to Istanbul
Is there Nikah in Turkey?
Nikah is present and common in Turkey which is a country with a large Muslim population. Religious marriage has some conditions; Two Muslim men or two Muslim women must be witnesses. The testimonies of those who are mentally incompetent and under the age of eighteen will not be accepted. Bride and groom, if they wish, can perform the marriage by giving a power of attorney to their place. Nikah should not be kept secret from family and relatives
English-Speaking Consultant
Registration of marriage in Turkey for foreigners with 24/7 support
You can get a consultation or send scanned copies to agreement and booking the date of marriage registration by contacting us by mail co@adiguncompany.com or via WhatsApp / Telegram.