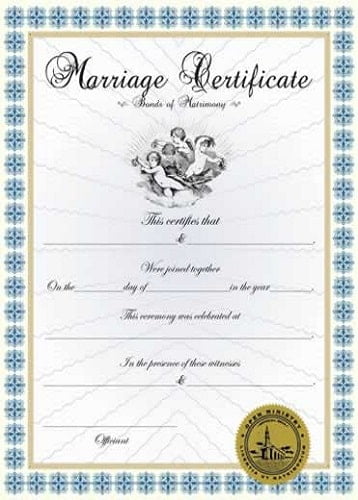 Marriage Certificate Translation
Our company provides sworn marriage certificate translation in all languages. In case of need, we follow the marriage certificate notarization process on your behalf.
Send us a photo of the marriage certificate
Delivered within 30 minutes with Notary Sworn
Or send it by cargo free or charge
With our meticulous and complete translation service and the most affordable price policy, Adıgün Translation Agency is always with you for your translation of marriage certificate needs.
Quality and fast service, notary approval, sworn translator stamp, professional corporate consultancy services.
Happiness depends on success, success depends on time. We know your time is very valuable. For this reason, our most important point is delivery on time.
After your translations are completed, we have a delivery service to any destination in the world. Enjoy our free shipping with fast and reliable companies within Turkey.
Marriage Certificate Translation in All Languages
Online Translation Service
Notarized Marriage Certificate Translation
In addition to marriage certificate translation services, our company provides translation and consultancy services for all official documents. Translation of official documents is a sensitive type of translation.
In case of any mistake in translation or in matters such as notarization, apostille, etc., our clients experience both loss of time and financial loss. Our professional notarized marriage certificate translation agency fulfills the requirements of each document and institution, so you can complete your official transactions in one go without any problems.
Our team of sworn translators will start working to fulfill your requests as soon as possible after receiving your order request. To benefit from our sworn marriage certificate translation service, you can come to our office or contact us via our online channels to speed up your process.
The Best Marriage Certificate Translation Price
In general, translation fees vary depending on how many pages the translation will be and in which language it will be translated. The price of marriage certificate translation is priced at an average of 500 Turkish Liras (the first 4 pages required) according to the July 2022 price hikes.
You can contact us through our communication channels to get detailed information about our company's translation fees. The marriage certificate notarization fee is charged additionally. This fee is determined every year by the Notary Association. The marriage certificate translation notarization fee is a fee in addition to the translation fee, and the cost per page is 200-260 Turkish Liras on average.
We proudly state that we act with the most favorable price policy and service quality in the market conditions in marriage certificate translation price and all translation services.
The Most Demanded Languages for Marriage Certificate Translation
We have a staff that translates all languages in the world. Among the languages, marriage certificate translation requests come mostly in languages such as English, Russian, Ukrainian, German and Arabic.
Republic of Turkey marriage certificate is actually a multilingual document. However, people can also request direct translation rather than abbreviations. For example, although it contains English and German explanations, in some cases it is requested to be translated completely or there are cases where translation is needed in languages that are not included in the wallet. In this case, our company provides sworn notary certified marriage certificate translations in all languages of the world.
In addition to marriage certificate translations, we also provide translation services for many other official documents. You can start your translation order process in the language you request by using our online translation ordering services or by visiting our office directly.
Frequently Asked Questions