Among other types of translation, interpretation service is known to be most difficult one as it requires the utmost attention and needs to be done by expert translators. While possible errors in other types of translation can be compensated during the control stage, this is not possible in interpretation due to the fact that it is a fluent and instantaneous action.
In this way, the translator who will do the translation must have a very good command of the target and source language. At the same time, the translator must speak in an understandable and fluent manner.
Online Order
Make your translation order online
All Language
Notarized translation in all languages
Affordable Price
We offer the best prices
Free Delivery
Free of charge delivery to all Turkey on the same day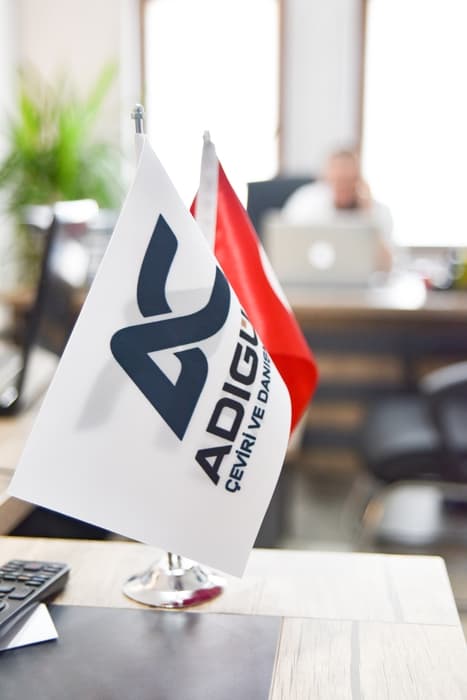 Professional Interpretation Service
Interpretation is the most difficult of the services that translation offices provide to their customers. Therefore the quality of the translation office is as much important as the expertise of the translator who will do the translation. This is because, unlike other types of translation, there is a requirement for professional equipment to be used by the translator during the interpretation process.
For this reason, the quality, facilities and success of the translation office that you will choose for the interpretation service directly affects the success and quality of the service that you will receive.
Adıgün Translation and Consulting has provided thousands of language interpretation service with the most specialized translators and state-of-the-art translation equipment facilities during its more than ten years of experience.
With our expert interpreters, we provide services that make a difference in all events and organizations both at home and abroad. When it comes to interpretation services, don't make a decision until you meet the Adıgün Translation family, which is the only choice of those who prefer success and quality!
Professional Interpreting Services of Adıgün Translation
Accurate, reliable and affordable
With our interpreting service, we will be hand and foot in your business life. We are with you, with our interpreting services in business and official meetings, organizations such as meetings and symposiums, and in many activities such as private meetings and telephone conversations.
Expert Translator Support: We have expert translator support needed in courts.
Interpreter for Job Interview: In all your business meetings and with your commercial identitiy as companies and organizations, We support you with our team of translators who are experts in their fields.
Translator for Private Meetings: With the confidentiality agreement to be made between us, all your commercial or political conversations are under our guarantee of trust.
Translator in Hospitality: We provide translation services in all languages in order to establish communication between you and your foreign guests from abroad. We offer you professional solutions with the experience we have gained over many years.
Translator in Factory Tours and Visits: Factory tours and visits are one of the most preferred business activities with your foreign company and business partnerships. For such activities; We provide you with language support with our certified interpreter service. Generally, language support is most needed in English, Russian, Chinese, Japanese and German.
Translator in Fair Organizations: In the fairs you will attend, we will be with you, with our support of translators in different languages so that you can express yourself while promoting your products at your company's stand.
Translator for your Phone Calls: We facilitate your communication with our translator support for your international connections, telephone and conference calls.
Translator Support for Patients: With our team of notary certified translators, we provide translation services to foreign patients who have come to all our state and private hospitals from abroad.
Accompanying Interpreter Support: You can apply to our office for interpreter support to accompany your foreign guests.
Translator for Business Tracking: We carry out your follow-up transactions in works such as seeing domestic or foreign places, buying and selling goods, and market research.
Notery Certified Translator: We provide translator support in all languages of the world for your various notary transactions such as trading, power of attorney, marriage transactions with foreign nationals.
Translator for Title Deed Sales Transactions: We ensure that all your sale transactions are conducted smoothly with your foreign customers in our country. Likewise, we provide interpreter support in all languages for all title deed transactions that our citizens will make with foreign nationals.
Translator for Courthouse and Litigation: We provide language support to law offices, lawyers and courts in all regions of Turkey with our sworn translators.
Interpretation Service Prices
Our Consecutive Translation prices are calculated as full-day and half-day. The price information for frequently used languages is as follows:
English Interpretation Service Price (Consecutive): 1000 TL

German Interpretation Service Price (Consecutive): 1200 TL

French Interpretation Service Price (French Consecutive): 1200 TL

Russian Interpretation Service Price (Russian Consecutive): 1200 TL

Chinese Interpretation Service Price (Chinese Consecutive): 1750 TL
Our prices VAT included.
Adıgün Online Notary Certified Translation Office
As soon as you reach our office via our communication tools about online translation from all over the world and Turkey, we will produce the most suitable solution for you in a short time. You can get a quote and create your orders by contacting us all day from anywhere in the world.
Create your notarized translation order online without leaving your home or office and let us deliver the translations as soon as possible with the advantages of free shipping and same-day delivery at all addresses in Turkey.
Get an online translation order now with the best prices.
Certified Interpreting in All World Languages
Interpretation is one of the widely used language solutions in Turkey, as well as all over the world. Interpretation services are divided into three main groups as simultaneous, consecutive translation and interpreter services. Adigün Translation and Consulting offers the most professional interpretation service in Turkey with its experienced sworn interpreters.
In addition to popular languages such as English, Russian, German and Chinese, we provide professional interpretation and accompanying services in rare languages as well on the day and time requested by our customers. In order for us to assign an interpreter to you in the required time frame, it will be enough for you to contact our office via our communication tools and make a booking hereof.
Turkey's Interpreting Office
As the most preferred Interpretation Office in Turkey, we are establishing communication bridges all over the world!
We have adopted customer-oriented working as a principle in the light of our understanding of service that does not compromise on quality. Based on this principle, we have set the interpretation fees at the most affordable limits and aimed to ensure that our customers can receive high-quality and affordable translation service at the same time.
We are providing you the best interpreting services in all provinces of Turkey including İstanbul, İzmir, Ankara, Adana, Eskişehir, Bursa, Gaziantep, Denizli, Trabzon, Rize, Kastamonu, Sinop, Samsun, Kahramanmaraş, Kayseri, Diyarbakır, Zonguldak, Şanlıurfa, Yozgat, Çankırı, Uşak, Niğde, Muş, Mersin, Kars, Sakarya and Kırşehir.
Let your choice be in favor of professionals in Interpreting.
Our Certified Maximum Confidentiality and Trust Guarantee
An ISO certificate declares that an enterprise provides services to a certain standard on international platforms. Adıgün Translation and Consulting company has proved the quality of its services with four different ISO Certificates, which are the guarantees of our competence with the quality standards in the field of activity. Our certificates include:
Translation Services / Translation Quality ISO 17100:2015
Quality Management System Certificate ISO 9001:2015
Information Security Management System Certificate ISO 27001:2013
Customer Satisfaction Management System ISO 10002:2018, We provide services within the scope of certificates.
In a professional sense, the translation service consists of written and oral translation and accompanying services. Written translation is the transfer of written resources such as documents, letters, correspondence, books to different languages while in oral translation, there is a translation of speech made in any language into a target language without loss of meaning. The speech of the speaker must be translated in full by experienced interpreters.
Depending on the type, content, place and nature of the speech, different methods and techniques are preferred. These:
• Simultaneous Translation
• Consecutive translation
• Liasone Translation,
• Whispered Translation,
• Telephone Translation,
• Accompanying Translation,
• Welcoming Foreign Guests
How Does Interpreting Work?
The transfer of written or oral messages and expressions from one language to another language is called interpretation. This is mostly preferred in business negotiations between the parties, meetings, negotiations, symposiums, conferences, product presentations and welcoming guests. Interpretation is the most difficult one of the translation types. It requires much more attention, proficiency in the language and subject matter, especially compared to written translation.
Frequently Asked Questions