Online Translation Office
In Adıgün Online Translation Office, we care about your time and business. We work with professional certified translators leadingour current translation services in multiple languages, such as; English, German & Russian.
Online Translation Service
We Offer Best Price Guarantee
 Notarization In The Same Day
Fast Shipping and Free Delivery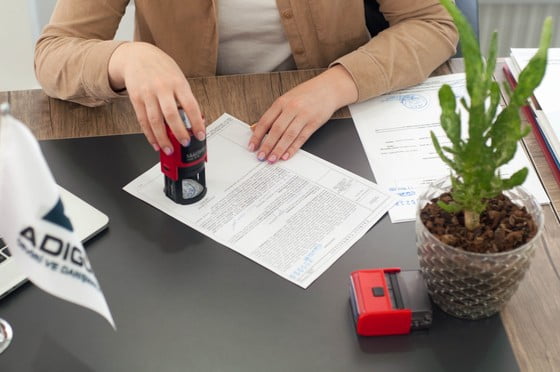 Official Translation Services
Are you looking for a certified translator near you? If you need a document translation service in Turkey, contact us and get a quick response from one of our professionals. We know that working with professional translators is a must for quality service.
That is why Adıgün Online Translation Office hosts many experienced sworn translators all over Turkey. We are ready to give you the fastest service with our dynamic and competent staff that constantly renews itself. As Adıgün Online Translation Office, we can translate official documents fast and efficiently.
Quality Guarantee Translation
Let's say you need a translation service in English, German and Russian. We can help you with all translation needs, such as translation certificates or other legal papers. We guarantee a good and quick translation service by authorized translators.
We got the best team for your translation demands 24 hours, online and offline. Regarding the quality of translation, our team members are as fast as they can. Also, we are ready for your urgent needs. With online translation office, our crew will immediately work on your texts. Our experts will save time and money for you. Even for the long documents, we provide the fastest translation service in Turkey.
Best Online Translation Prices 2022
Reach us so one of our translation experts can assist you and give you an exclusive price. We are pleased to help our customers with no flaws.
Wherever you are in the world, our services can reach you easily. We care about our fair trade policy, and you can be sure you receive what you have paid for in our online translation office. Contact now; exclusive prices are waiting for you.
Adıgün Translation and Consultancy Online Translation Services
Our Adıgün Translation and Consultancy Office offers notarized online translation services in more than 60 world languages, primarily English, German, Ukrainian and Russian.
Professional and Quality Translation Service
Our translators offer translation services more than 60 languages
Our team is able to notarize and is accredited by consulates.
We offer translation that does not lose its oroginality while being translated from source to target laguage.
For your bulk orders, we offer up to 30% discounted prices.
Our Offices offer a wide array of services and can be contacted 24/7.
We make our customers feel safe with our ISO quality standards certificates.
We send your translated documents from Turkey to all over the world.
Confidentiality is very important for us this goes for all of your documents.
We make sure your documents are translated and sent in the shortest amount of time.
Frequently Asked Questions