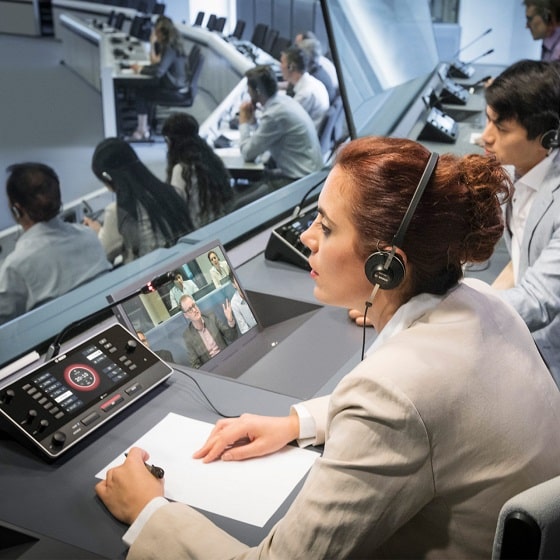 Simultaneous Interpretation
As Adıgün Translating Offices, we offer only the best prices in all fields just like simultaneous interpretation services in all languages.
With our most current simultaneous interpretation prices, you can contact us with any topic that comes to mind. Our consultants will make sure that they provide you with the best price package we offer.
Professional Interpreters
Interpretation in All Languages
Features Of Simultaneous Interpretation
The most important difference that seperates simultaneous interpretation from other translation services is the equipment that is required to be used. The translator that performs simultaneous interpretation must be in a sound-proof booth.
They must also have equipment that transfer sound and image, which they interpret directly to the target listener. They deliver the translation via microphone to the listeners. This can also be done with headphones specially made for simultaneous interpretation. This means that the simultaneous interpretation can be done in many languages at once.
As an example, in a conference, a speech made in Spanish can be translated into Turkish. Another translator can translate it into French and another can translate it into German. For every participant, they can choose which language to listen in on by switching it via headphones. This way, the participant can listen to the originally Spanish given speech in any language they prefer.
When it comes to simultaneous interpretation, the technological equipment used highly differentiates the quality and accuracy of the end-result. Since simultaneous interpretation is literally ''live'' there is no room for error and must be done perfectly by interpreters that are experts in both the source and the target language.
Simultaneous Translation with Most Affordable Prices
Companies may have to be in the international arena in many different ways such as conferences, congresses, training seminars, fairs, promotional activities, press conferences. Simultaneous translation service is of inestimable importance for the effectiveness and success of such organizations. Of course, you can only trust an institution that has proven its success with its expertise and experience for simultaneous interpretation service.
Advantages of Simultaneous Translation
To summarize; It is possible to list the advantages of simultaneous translation as follows:
It is the most effective method of communication in organizations where people speaking different languages come together.
It is a solution that allows the pace of speech to continue without interruption in the meeting.
Since each language can be translated separately, there is no language discrimination, so speakers of each language can participate in the events.
The Difficulties Of Simultaneous Interpretation
When it comes to simultaneous interpretation, we can consider it to be the hardest translation type of them all. High knowledge in both the source and target language is required. Top notch language understanding and on the spot thinking are both very important when it comes to simultaneous interpretation.
Translators that simultaneously interpret everything they hear without failing go through special training. The organizations simultaneous interpretation is used in cannot tolerate even the smallest mistakes. Which means the translators assigned to said services must be extremely successful in their simultaneous interpretation duties. These translators must also know all about the technical terminology of said topic. For example, when simultaneously interpreting for a medical conference, the translator assigned must know everything medical-wise to make sure that no mistakes are made while listening in on the speech. Even the slightest mistake during interpretation may lead to a huge misunderstanding and will cost the meeting more time and money.
To make sure none of this happens, the translator must study everything terminology based and prepare for said event meticulously. Also, every language has their own grammar and their own way of explaining things. Even the forming of sentences is different when it comes to different languages. Some languages are more advantageous when it comes to vocabulary. The terminology is different and must be prepared beforehand so mistakes do not occur live.
Also, so languages have different language structures which may lead to meaning the opposite thing. For example, some languages start, and some langauges end with verbs. The simultaneous interpreter must know how to switch those verbs around fast to be able to get the speech giver's point across without fail. Some of the most successful simultaneous interpretation examples are those that are as non-obvious as possible. This shows how experienced and ready the interpreting translator is and raises the success rate to as high as possible.
Adıgün Translation and Consultancy Online Translation Services
Our Adıgün Translation and Consultancy Office offers notarized online translation services in more than 60 world languages, primarily English, German, Ukrainian and Russian.
Professional and Quality Translation Service
Our translators offer translation services more than 60 languages
Our team is able to notarize and is accredited by consulates.
We offer translation that does not lose its oroginality while being translated from source to target laguage.
For your bulk orders, we offer up to 30% discounted prices.
Our Offices offer a wide array of services and can be contacted 24/7.
We make our customers feel safe with our ISO quality standards certificates.
We send your translated documents from Turkey to all over the world.
Confidentiality is very important for us this goes for all of your documents.
We make sure your documents are translated and sent in the shortest amount of time.
Frequently Asked Questions