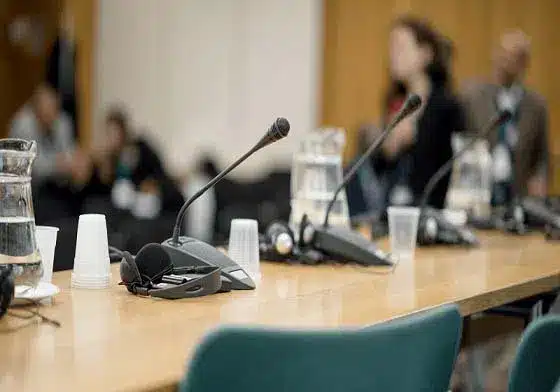 Consecutive Interpretation
Just like your other translation needs, we also offer consecutive interpretation at the recent best prices.
For more information you can contact us. Our consultants will give you the correct and best service deal they can.
Professional Interpretation
Interpretation in All Languages
Features of Consecutive Interpretation
If we would like to explain consecutive interpretation, we would like to say that it is; translating the source-language sentence by sentence while being side by side. That being said, it can be confused with simultaneous Interpretation which is very commonly seen.
The difference between the two is that in consecutive translation, we do not require any digital devices or technical machines. Consecutive Interpretation is a classic translation service that has been in demand for quite a while. The issued translator must understand both languages and must translate very quickly. As Adıgün Translation Offices, we offer this service professionally by native language speakers.
Since our translators are savants in both their native tongue and the Turkish language, we can guarantee high quality, and accurate consecutive interpretation services. This way, job interviews, diplomatic conferences, meetings, and such can be done without any trouble whatsoever.
Consecutive Translation with Most Affordable Prices
Companies may have to be in the international arena in many different ways such as conferences, congresses, training seminars, fairs, promotional activities, press conferences. Consecutive translation service is of inestimable importance for the effectiveness and success of such organizations. Of course, you can only trust an institution that has proven its success with its expertise and experience for Consecutive interpretation service.
Difficulties and Importance of Consecutive Interpretation
Interpretation translation types are important and require great care. Because during consecutive translation, everything happens in an instant, and there is no tolerance for mistakes. There is no time to fix the mistake neither. A wrong pronunciation or translation may cause different end results and will hinder the meeting's course and be harmful to both parties and the translator themself. A mistake might hinder the organization's thought process.
For example, imagine a diplomatic figure saying something good yet the translator messes up and says the wrong thing? Or a wrong ınterpretation done while you are in a job interview. It will most likely cost you your job. Interpretation Translation, especially consecutive interpretation, must be done by Sworn translators that are careful, and companies that are very experienced.
One of the most important parts of consecutive interpretation is readiness and preparation. Said interpreter must study terms, concepts, and must do research alongside constantly gathering knowledge about said topic and be as ready as possible. You can contact us for a quote of any consecutive interpretation service you need. We are only a phone call away from helping you. You can also e-mail us or contact our office by phone.
Advantages of Consecutive Interpretation
The reason consecutive Interpretation is the most traditional ınterpretation method used is because it presents the customer with a few advantages, some of which are;
Since the dawn of time, business between cultures required translators that knew both the target and source language for them to understand each other and get along with their trading.
It's a lot more functional than other translation types.
It does not require equipment like simultaneous interpretation.
It provides people with no common language knowledge to be able to understand each other, which would not be possible without a consecutive interpretation translator.
Adıgün Translation and Consultancy Online Translation Services
Our Adıgün Translation and Consultancy Office offers notarized online translation services in more than 60 world languages, primarily English, German, Ukrainian and Russian.
Professional and Quality Translation Service
Our translators offer translation services more than 60 languages
Our team is able to notarize and is accredited by consulates.
We offer translation that does not lose its oroginality while being translated from source to target laguage.
For your bulk orders, we offer up to 30% discounted prices.
Our Offices offer a wide array of services and can be contacted 24/7.
We make our customers feel safe with our ISO quality standards certificates.
We send your translated documents from Turkey to all over the world.
Confidentiality is very important for us this goes for all of your documents.
We make sure your documents are translated and sent in the shortest amount of time.
Frequently Asked Questions